Guatemala
Top Destinations

"Educación para Todos"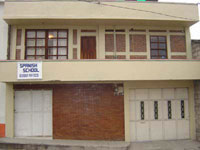 Has been devoted to Spanish Language education in Quetzaltenango since 1991. We offer one of the best programs in Xela. With our emphasis on quality Spanish Language education, trained and professional teaching staff, friendly and accommodating families and diverse calendar of activities and events, we guarantee your satisfaction! Our program provides the most effective learning experience by immersing the student in the language and culture of Guatemala. This is achieved through an intensive, 5- hour one-on-one study program, living with a Guatemalan family, volunteering with a local organization, and weekly-organized cultural, social, and political events.
We are dedicated to doing our best to ensure a great experience for you! We are very flexible and willing to work with students as they make their plans to study with us. We are able to work with students with special needs. We specialize in those students that are looking for more than just Spanish classes. Let us help you have the language learning experience that you are looking for!.
Class Schedule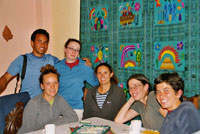 Our program includes 5 hours a day of one-on-one intensive instruction. There are two sessions held daily: from 8:00am to 1:00pm and from 2:00pm to 7:00pm. Students can choose between either the morning or afternoon session. Please indicate your preferred session when you apply. In addition, there are daily activities that allow students to learn more about the culture, customs, history, politics, and societies of Guatemala and all Latin America.
You will be evaluated the first day of class to determine your level of Spanish. Then you together with your teacher will develop a study plan that reflects your needs, interests, and expectations. To expose the students to different teaching styles and ideas, the teachers are rotated each week.
We have various teaching materials including grammar and exercise books with explanations in several languages, including Spanish, English, German, Danish, Swedish, Norwegian and Finnish. The teachers use these materials to supplement their teaching and to give the students practice exercises and homework. The students are also welcome to take these materials home and use them as long as necessary. Our Spanish Language Program is divided into three parts - Beginner, Intermediate and Advanced. Our classes may be adapted for any level of learner. The complete program takes approximately 8 weeks of study.
OUR EXCLUSIVE STUDENT GUEST HOUSES
We seek families that treat students like an additional member of the family, inviting them to take part in daily activities and conversation. If students arrive a few days early, they may stay with the family until their classes begin for a small daily fee. Most of our families have been with the school for many years and have experience with having foreigners in their homes. They are also able to cook based on the student's dietary needs, for example vegetarians, lactose intolerant, etc.
Guatemala
Reservation
Services
Registration $30
Tuition
$135 per week
This price includes:
5 hrs/daily
per 5 days at week
Family stay for 7
days including
meals