TOTAL SPANISH IMMERSION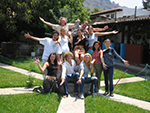 At La Academia de Español - Sevilla, we believe that learning a language should be serious fun and we also believe that happy instructors make for happy students. The school atmosphere is warm and inviting and most of our professional instructors have worked with the director for over 14 years. Your course is not only designed to suit your academic needs, we make certain that you are comfortable with your surroundings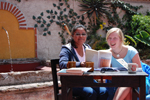 Take the Plunge! We'll meet you at your level and take it from there. Our instructors are professional teachers and many have degrees in other fields, i.e., the law, engineering and accounting. We hire only the most qualified instructors and we then train them the "Sevilla Way". Whether you are at Spanish Level I or Level IV, we will design your period of study to suit your needs - Spanish for business or pleasure. And whether your stay with us is for one week or six months, you'll learn rapidly and enjoy the process.
Class Schedule
Although the ideal class schedule is from Monday through Friday, we will accommodate your schedule. Weekend study is also available (Special rates apply on Sundays).
8:00 to 10:00 Grammar and Exercises
10:00 to 10:30 Coffee Break
12:00 to 14:00 Lunch Break
14:00 to 16:00 Topical Discussions and Vocabulary Practice
The ambiance at La Academia de Español- Sevilla is friendly and inviting. Below are some of the extracurricular activities offered to our students without charge: Cultural demonstrations, Latin dance classes, soccer games (teachers v.s.students), Latin American films, demonstrations of Mayan textiles and traditional weaving techniques,extracurricular group-grammar classes and parties!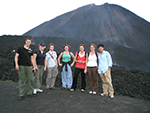 We offer our students free-limited Internet access and we'll happily receive your FAX, phone calls/messages and personal mail at our reception desk. We also offer our students coffee, tea and purified waterand use of TV and VCR STUDENT ACCOMMODATIONS FAMILY STAY
- The traditional immersion approach.Private room, share bath, all meals (6days/week).. All homes are located near
the Academy.
OUR EXCLUSIVE STUDENT GUEST HOUSES
- A popular offering of our Academy. Private room, share bath. Guest houses are located very close to the Academy and accommodate from 8 to 14 students. Student guest houses are available ONLY to students of our Academy.